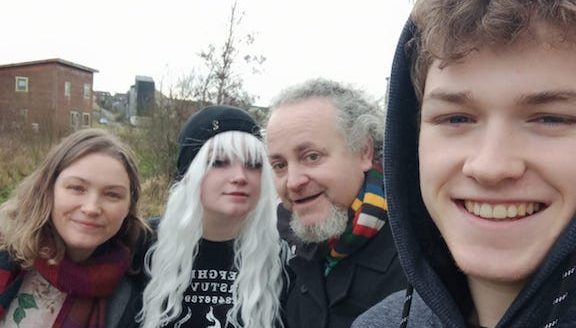 Vicki and Oliver (Ollie) Moore live and work in the heart of the ecovillage, along the stream at Bruach an Uisce. Both shopped and hung out at the Dublin Food Co-Op when living in Dublin in the mid-1990s, which was one of the places where the idea for the ecovillage emerged from.
However it was 2007 before they got interested in moving from Ennis in the west to Cloughjordan in the midlands. They moved in 2010, when their children were 10 and 5 respectively. Having a space and a place for free-ranging kids was a key consideration, as well as becoming part of a community of people willing to live more ecologically. Their house was completed in 2014, with the build itself being chronicled in the Irish Examiner over two years (final article here). "As our two have grown up here, it's been great to see how much they benefited from living in both the ecovillage and wider community. It's a very supportive and inclusive environment, and they have enduring friendships from all over Cloughjordan and beyond" Vicki adds.
Vicki works with older people, and people with varying needs, in the caring professions. She is very involved in the Cloughjordan Dark Sky Group, which combines an interest in the history and mythology of our relationship with the celestial, current astronomical occurrences, and a mission to reduce the damage to biodiversity and waste of energy caused by inappropriate lighting. The Dark Sky group meets at night with binoculars and telescopes when the sky is clear, to seek out different things in the sky throughout the year, from nearby moons to far off nebulas.
Ollie, originally from the midlands himself over in neighbouring Offaly, works mostly from home, where fibre optic broadband enables his editorial and communications work. This is done with ARC2020 – a European NGO focused on agri-food and rural matters from an socio-ecological perspective – while other journalism and consultancy work happens in the home office too. He also works in the Enterprise centre (WeCreate) part time with Cultivate on European Projects, and gets a day-return train to UCC a dozen or so times a year, where he lectures with the Centre for Cooperative Studies. Ollie is on the board of the Cloughjordan Community Farm and the Irish Environmental Network, while he also DJs and organises events in Cloughjordan. Listen to his mixcloud here.
Related Articles
One day, Pa Finucane decided that city living wasn't for him any […]
Julie Lockett and Joe Fitzmaurice run multi-award-winning Riot Rye Bakehouse, Bread School […]