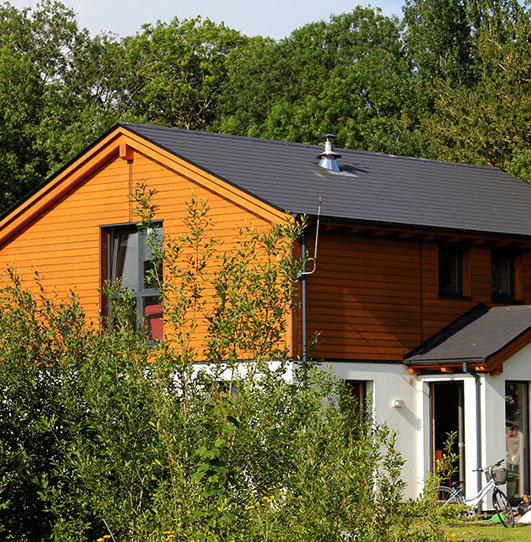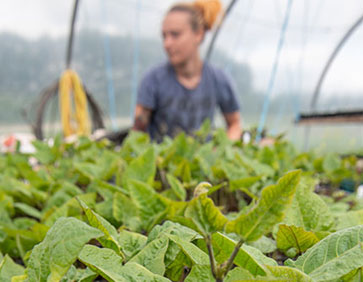 During 1999, in the Central Hotel in the city centre of Dublin, Sustainable Projects Ireland Ltd pitched their ambitious idea of Ireland's first ecovillage to the public. The plan was to create a community of dedicated environmentalists; to buy a site together on which they could each build their lives.
What followed for the next two years was an extensive search for a suitable location for an ecovillage.
We chose the 67 acre site just off Cloughjordan town in Tipperary, after looking at many sites.
For the next three years, meetings between the future residents occurred. We used consensus decision-making to ensure each community member had their say in the development plan.
In 2005, after the money had been raised and planning permission had been obtained, the site of the now present Cloughjordan Ecovillage was purchased. Over the next few years, we built the infrastructure that would allow a functioning ecovillage to flourish.
Unfortunately, the economic crash of 2008 had an adverse effect on the ecovillage, as it did around the world, which forced 50% of those who had invested into the purchase to pull out of the project. However, those that could stayed on and in 2009 the very first residents of Ireland's first ecovillage moved into their homes.
The village began to rapidly develop, and by 2012 the village had fibre optic broadband cables installed, a 500m2 solar panel array, an eco-hostel, an eco-enterprise centre, and 50 homes built or under construction. With all these new developments, the idea of an eco-village was finally becoming a reality and the community has been collaborating, thriving, and growing ever since.
Our Achievements
Cloughjordan ecovillage has become a model for environmental sustainability and community resilience. This has been acknowledged around the world and the ecovillage has achieved a number of awards and achievements that demonstrate our determination and internal diversity. Some of our proudest are:
Cloughjordan Ecovillage is finalist in Transformative Cities Awards.
The Transformative Cities "is an opportunity for progressive local governments, municipalist coalitions, social movements and civil society organizations to popularize and share their experiences of building solutions to our planet's systemic economic, social, political, and ecological crises". Judged on key areas such as equity and participation, sustainability and efficiency, and solidarity and public ethos, here at Cloughjordan we were proud to have been announced as a finalist in the Housing Category. There is a global need for radical, systematic transformation, and we were delighted to be placed amongst other fantastic projects.
Cloughjordan Amphitheatre opened by President Michael D. Higgins
Culture and the Arts are central to our visioning at Cloughjordan Ecovillage, and we were most proud to have President Michael D. Higgins join us at the opening ceremony of the Cloughjordan Amphitheatre, as well as speeches and musical performances by Cloughjordan residents. Through art, we can turn our dreams into realities, which is why facilitating performance and expression is of utmost importance to Cloughjordan Ecovillage. An art installation at the Amphitheatre is dedicated to Thomas McDonagh, the poet, dramatist, and signatory of Ireland's Proclamation of independence who was born in Cloughjordan town.
Selected by the European Union's Milesecure-2050 Academia project
The MILESECURE-2050 project aims to understand and overcome the political, economical and behavioural traits. and trends that led Europe to its difficulties in reducing fossil fuel consumption. Cloughjordan Ecovillage was selected as one of the Milesecure 23 projects due to its success 'in terms of social recognition and excellent results from an energy and environmental point of view'. As such, Cloughjordan Ecovillage is considered as one of Europe's leading 'anticipatory experiences' of the transition towards a low-carbon society with important lessons for EU policy.
Cloughjordan Ecovillage has an ecological footprint of 2 global hectares (gHa), the lowest of any community recorded in Ireland.
The results were based on the first complete survey of ecovillage residents carried out in April and May 2013 by the Tipperary Energy Agency (TEA). This compares very favourably with estimates of other urban settlements in Ireland and of international estimates of Irish people's average ecological footprint. A survey of 79 Irish settlements found an ecological footprint (EF) of 4.3 gHa.
Gold Medal in "The Green Oscars"
Cloughjordan ecovillage was awarded the gold model in the 2013 International Awards for Liveable Communities Awards, considered the global "Green Oscars". We were delighted to receive this award that recognised Cloughjordan ecovillage as being one of the world's top "innovative projects that demonstrate sustainability and environmental awareness" that also has "a positive impact on the local community and environment"
Woodland of 17,000 native trees planted
Cloughjordan Ecovillage aims to not only be a model for sustainable living and ecologically friendly food production but also to contribute toward safeguarding Ireland's natural heritage and biodiversity. As such, planting 17,000 native trees across one-third of our 67 acre site is one of our proudest achievements.
Our Process and Principles
" To serve as an education, enterprise and research service resource for all "
- Mission statement of Cloughjordan Ecovillage residents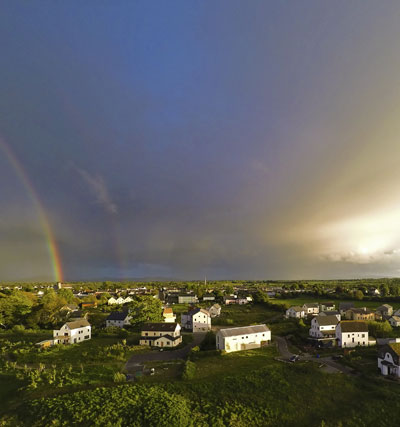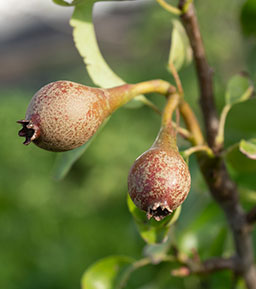 Members of Cloughjordan ecovillage adopted the idea of shared purposes and principles and shared out responsibilities. By creating a process of mutual agreement, Cloughjordan Ecovillage represents a shift towards the new paradigm of self-organizing adaptive systems.
Every member of Sustainable Projects Limited has had their say in the development of Cloughjordan Ecovillage. Each step of the project was decided upon as a community, from choosing the location of Cloughjordan to agreeing upon the Ecological Charter for sustainable housing development.
This means that not only are the homes and infrastructure of the ecovillage built to be environmentally sustainable but that this was done in a collaborative and co-creative manner that was inclusive of the ideas and opinions of all members of the ecovillage.
Our Consensus Decision-making Model:
As a community we aim to share out the rights and responsibilities of making our project work successfully. Organised according to the Viable Systems Model (VSM), we are structured non-hierarchically so that all members can have an equal say in decision-making. VSM creates an adaptive and resilient social dynamic that preserves the autonomy of members and working groups within a structure of support and accountability.
All members of Cloughjordan Ecovillage use the process of consensus decision making to arrive at decisions. Instead of simply voting for an item, consensus decision making ensures that everyone's opinions, ideas and reservations are taken into account. But consensus is more than just a compromise. It is a process that can result in surprising and creative solutions, and is committed to finding solutions that everyone can live with.